Cucumber and Tomato Salad – my style

My Cucumber and Tomato Salad
---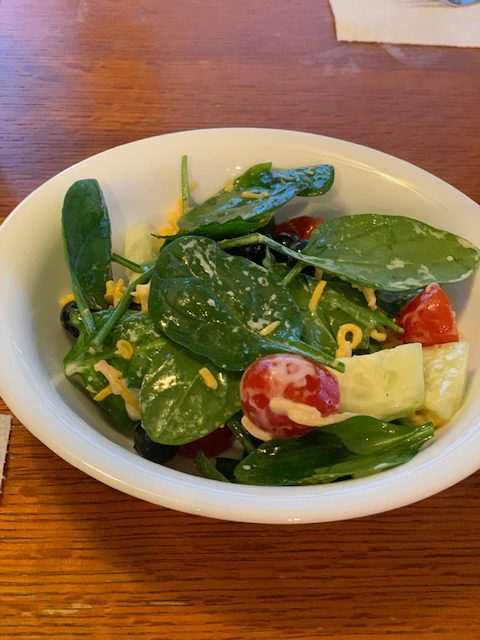 I still had some baby spinach left to use in my refrigerator, so I decided to create a salad with stuff I had left in my frig.  It turned out to be a fairly basic green salad but still very good.  I'm loving having these salads with my meals.  It helps me get my veggies into my diet.  I also have found a nice ranch dressing also that is low carb and I'm enjoying using a prepared dressing.
Ingredients
Spinach leaves organic washed
Cucumbers 1 large, sliced into round
Grape tomatoes, sliced in half – 1/2 cup
Shredded cheddar cheese, about 1/2 cup
Blueberries – about 1/3 cup
Olive oil, 2-3 tablespoons
Ranch dressing  2-6 tablespoons
Tools
Cutting board
Mixing Bowl with a sealable lid.
Regular large Spoon to mix (I have a slotted one I use)
*note, you can go to my Pampered Chef store and purchase your own great kitchen tools like my salad choppers.  
Directions
Take washed spinach leaves and place in mixing bowl.
Toss in sliced cucumbers, along with sliced grape tomatoes.
Drizzle olive oil over salad and shake to distribute oil.
Sprinkle shredded cheese over mix.
Add 2-6 tablespoons of ranch dressing.
Right before serving seal with lid and shake to mix cheese and other ingredients well.
Keep cool until time to serve.
Serve
You can add more dressing if desired.
Servings
Makes about 3 bowls of salad. Be sure and shake sealed bowl well to mix before serving from it.
I served this salad with baked cod nuggets and fire roasted vegetables from Schwans.
Use
I offer this salad recipe free to those in need.
Comments
I enjoy getting comments and questions.  Please leave yours below. – Shirley
Note:  This post may contain affiliate links, which, if clicked on and a purchase made, I receive a small commission (with no extra cost to you).
Please follow and like us: