My Best Mediterranean Salad

Mediterranean or Greek Salad
---
The other day, I looked up what the definition of a "Greek Salad" was.  This is what I found:
"A proper Greek salad is romaine lettuce, tomatoes, cucumbers, red onion, Kalamata olives, pickled beets, and feta cheese, topped off with Greek dressing"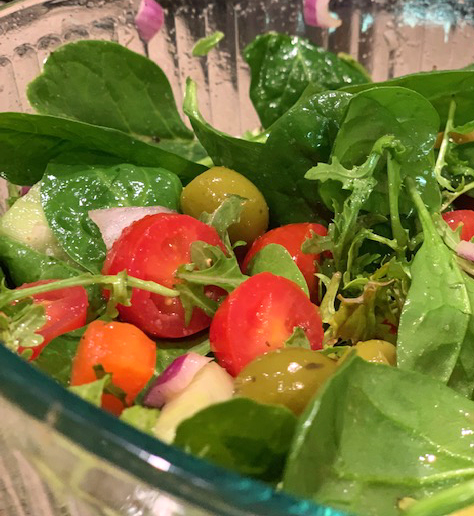 Well, needless to say, I decided to come up with my own version and call it a "Mediterranean Salad".
This is a very healthy and all veggie salad and looks beautiful when served.  I also chose a different green to use: a mix of arugula and baby spinach leaves.  And I'm not a beet fan so I forego the beets.
Ingredients
A mix of arugula and baby spinach greens, chopped – 4-5 cups (I purchased a premixed version from the local grocery)
Green, pitted olives – 6 oz can
Grape tomatoes, sliced in half – 1/2 cup
Red bell pepper, cleaned out and chopped into small slices – 1/2 pepper
Cucumber, peeled and sliced into rounds and then halved rounds – 1 large
Red onion, chopped – 1/2 onion
Feta Cheese crumbles – 1/2 to 3/4 cup
Greek dressing – 1/2 cup (from the recipe provided below)
Tools
Cutting board
A large mixing Bowl with a sealable lid.
Regular large Spoon to mix (I have a stainless steel slotted one I use)
Directions
Put green mix, olives, bell pepper, cucumber, onion in a bowl, seal bowl and shake to mix
Pour 1/2 cup dressing into a bowl and shake again to mix (dressing recipe is provided below).
Chill in refrigerator
Serve in salad bowls right out of the frig and sprinkle with feta cheese to taste.
Makes a large bowl of about 5-6 salad servings.  If kept sealed, and kept in the refrigerator, it will be very good for at least 2 days.
Greek Salad Dressing
---
I have created my own version of a Greek salad dressing.
Ingredients
Olive oil – 1/4 cup
Red Wine Vinegar – 1/4 cup
Ground garlic powder – 1 Tablespoon
Oregano – 1/2 teaspoon
Basil – 1/2 teaspoon
Minced onions – 2 Tablespoons
Ground mustard – 1/2 teaspoon
Salt and pepper to taste
Tools
Cutting board
Small, sealable containers to store in the refrigerator until use
Directions
Pour all ingredients into a mixing bowl and mix well.
Pour into a small sealable container and keep in refrigerator until ready to use
Use
I offer this salad and dressing recipe free to those in need.
Comments
I enjoy getting comments and questions.  Please leave yours below. – Shirley
Note:  This post may contain affiliate links, which, if clicked on and a purchase made, I receive a small commission (with no extra cost to you).
Please follow and like us: