Mediterranean Olive salad and Mediterranean Dressing

Mediterranean Olive Salad
---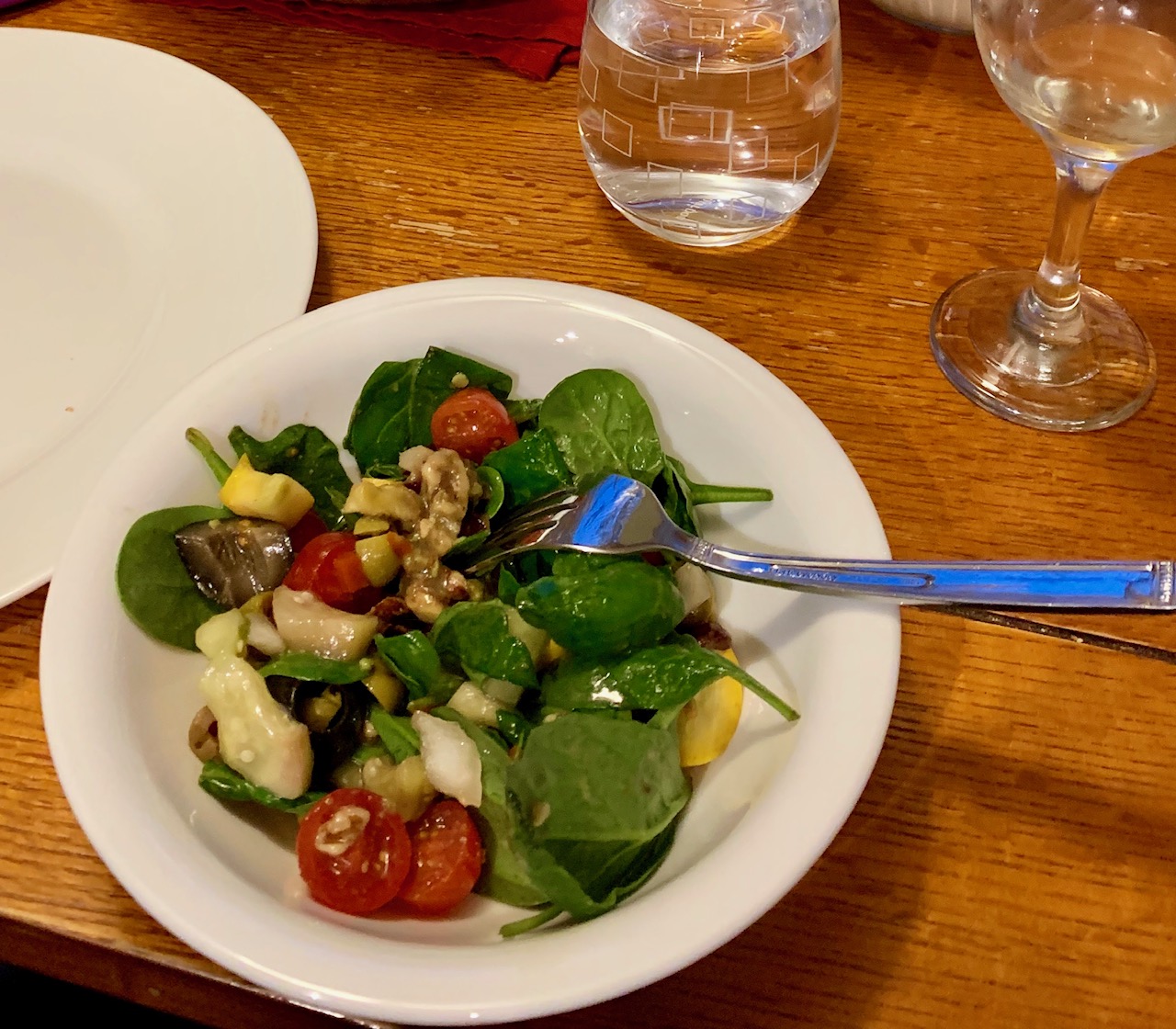 I planned to have dinner at my home with some of my neighbor friends.  There would be six of us.  So this was an opportunity to create a new salad to share with my friends.
We paired the salad with baked pork loins and salmon and vegetables with garlic bread.
Then I realized that one couple thought it was a different day, so I had them over the next day with meatloaf, veggies and left over Olive Salad and Dressing.  It was still great!
All my guests really enjoyed the salad and dressing.
Ingredients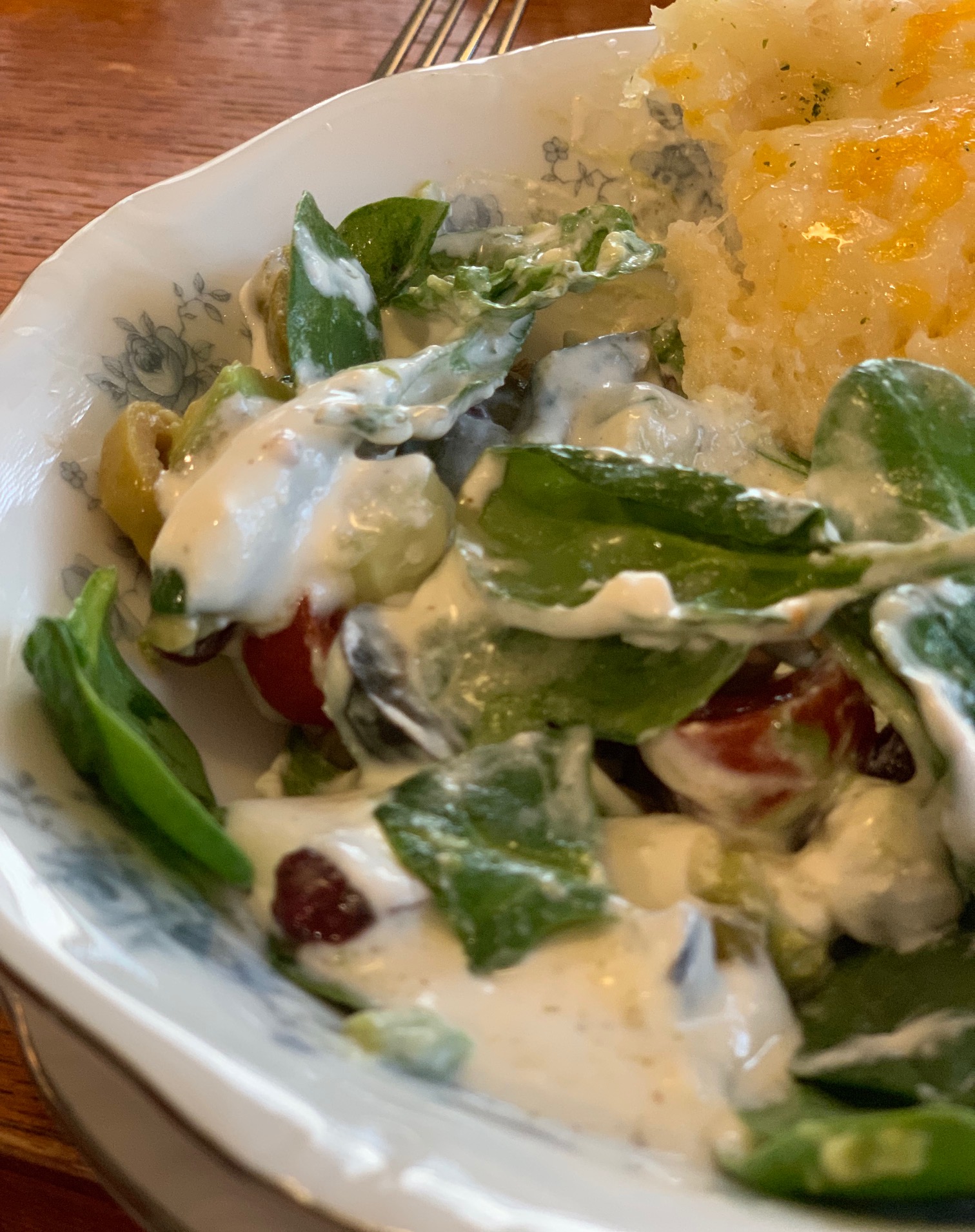 Baby Spinach Leaves -about 3 cups
Yellow Squash – 1 cleaned and diced
Green Pitted Olives – 1 can, drained
Black Pitted Olives – 1 can, drained
Cucumber – 1 medium, peeled and diced into small pieces
Grape/Plum tomatoes – washed, cut into halves or thirds  1 container (about 1 cup)
Onion, White – 1/2, diced
Alvacodas – 3, peeled and cut into small bite size pieces
Dried cranberries and glazed walnut pieces – I used one purchased package
Tools
Serves 4-6.
Directions
Place all dry ingredients in large mixing bowl with a seal able lid.  You can refrigerate this until read to serve.
Right before time to serve, add the other ingredients, seal lid and shake well to mix.
Place in salad bowls and drizzle creamy dressing
Mediterranean Creamy Dressing
Ingredients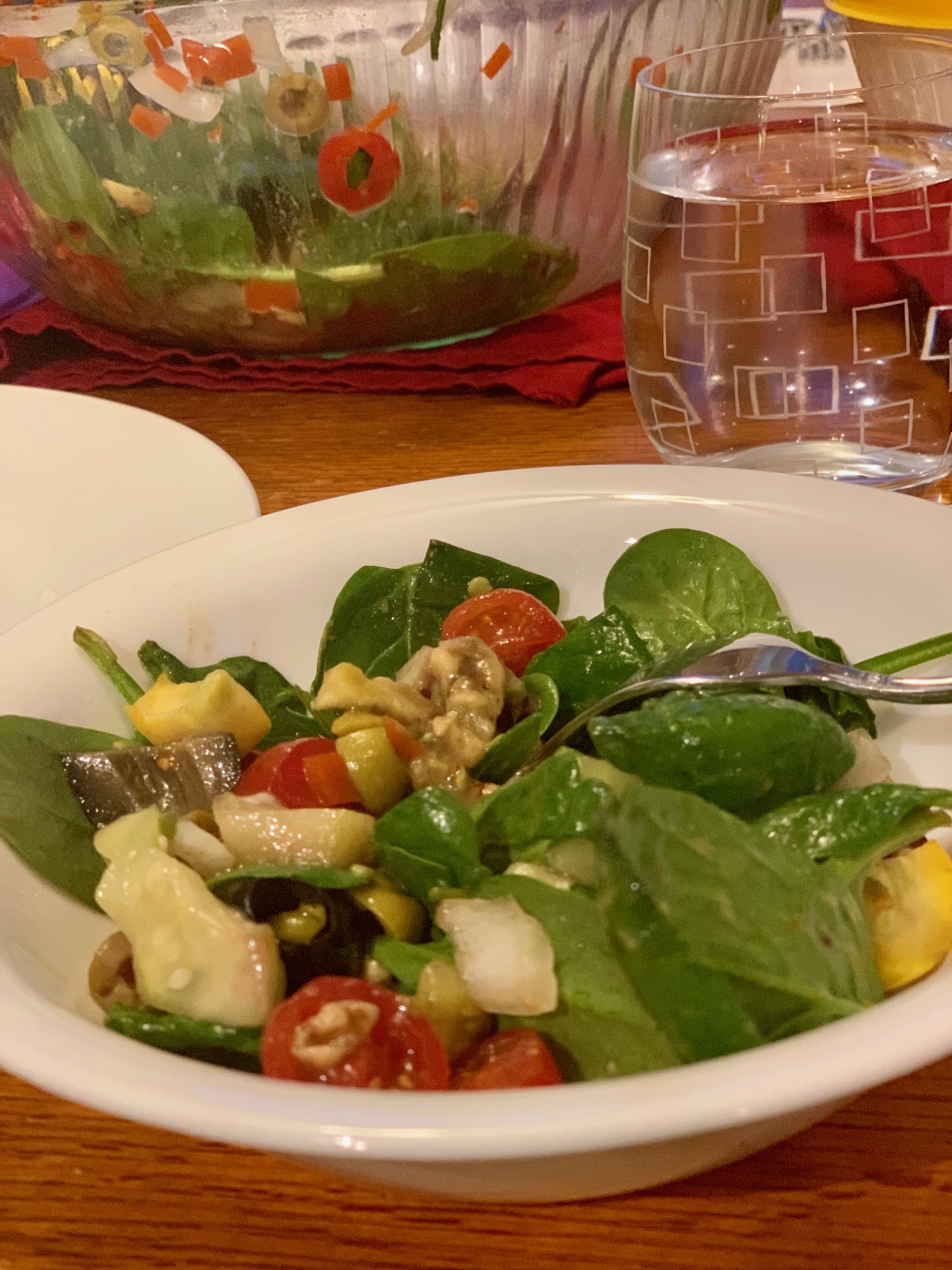 Sour Cream, 1 cup
Greek Yogurt, plain 1 cup
Feta Cheese crumbles – 1/2-1 culp (to taste
Red Wine Vinegar – 1 Tablespoon
Olive Oil – 1 Tablespoon
Garlic Powder – 1 teaspoon
Black Pepper – dash
Oregano – dash
Dill – dash
Tools
Cutting board
Glass Mixing bowl with lid
Rubber spatula
Small handheld mixer
Spoon to mix.
1 cup measuring tool
1 Tablespoon measuring tool
Directions
Place all ingredients in bowl and stir
Use small hand held mixer to blend ingredients together
Seal with lid and refrigerate until time to serve
Serves 6-8
Use
I offer this salad and dressing recipe free to those in need.
Comments
I enjoy getting comments and questions.  Please leave yours below. – Shirley
Share with your friends who enjoy new recipes also.
Note:  This post may contain affiliate links, which, if clicked on and a purchase made, I receive a small commission (with no extra cost to you).
Please follow and like us: