Cucumber, Tomato and Baby Spinach Leaf Salad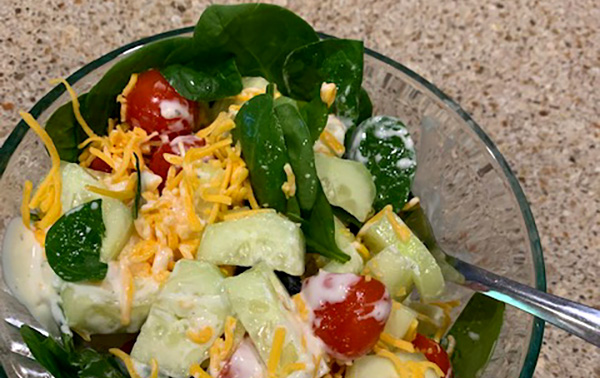 Cucumber Tomato and Baby Spinach Leaf Salad
---
A few days ago I was needing a simple and easy dinner to prepare that didn't take very long.
So basically baked fish sticks and a salad was my answer.  I found the frozen fish sticks in my freezer from when I thought my grandsons were going to visit but the trip fell through.  So here was my chance to use them.
I put the frozen fish sticks in the oven and started work on the salad.  It was pretty simple and easy to chop and mix.  I love my Pampered Chef Salad Chopper by the way!
Ingredients
Baby Spinach Leaves -about 3-4 cups
Cucumber – 1 large, peeled and diced
Grape/Plum tomatoes – washed, cut into halves or thirds about 19 grapes (about 3/4 cup)
Onion, White – 1/2, diced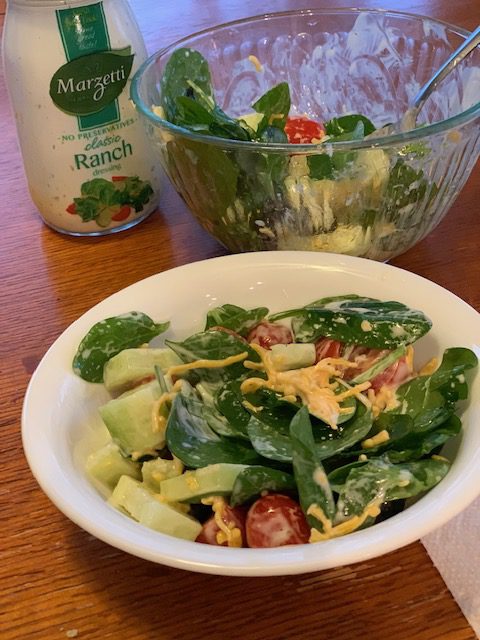 Blueberries – washed well, about 1 cup
Olive Oil – 3 tablespoons to drizzle
Shredded Cheddar cheese – 3/4 cup
Already prepared ranch dressing – Marzetti classic Ranch Dressing – to individual taste
A little salt and ground black pepper
Purchased Dressing
I enjoy Marzetti's classic Ranch dressing which has no preservatives and very little fat or carbs.
Tools
Serves 4-6.
Directions
Place all ingredients except cheese in bowl, seal and shake to mix
Seal with lid and refrigerate until time to serve
Right before serving, remove lid, place shredded cheese, seal and mix again.
You can drizzle more olive oil or use some of the Marzetti Ranch Dressing – whichever you prefer.
Serve immediately
Serves 6-8
Use
I offer this salad and dressing recipe free to those in need.
Comments
I enjoy getting comments and questions.  Please leave yours below. – Shirley
Share with your friends who enjoy new recipes also.
Note:  This post may contain affiliate links, which, if clicked on and a purchase made, I receive a small commission (with no extra cost to you).
Please follow and like us: